UCIS Released New Form I-9
February 11, 2020
Posted by:

flores

Category:

flores blog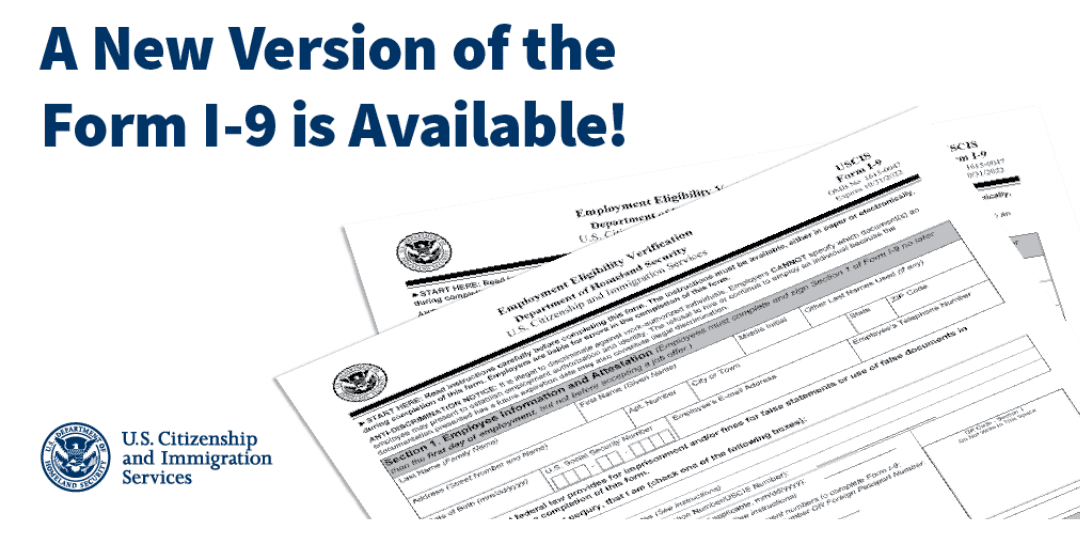 UCIS Released New Form I-9
Source: USCIS
To comply with U.S. law, Employers must verify eligibility for employment for all new employees within 3 days of hire by collecting a Form I-9 and reviewing original documents establishing the employee's eligibility to work in the U.S. Every so often a new version of the Form I-9 is released. The U.S. Citizenship and Immigration Services (USCIS) have just published a revised form.
The new I-9 version can be found here. 
Employers may continue using the current Form I-9 (rev. 11/14/2016) through April 30, 2020. After that date employers must use the revised form that now is valid thru October 31, 2022. If a current employee requires re-verification after April 30, 2020, employers must complete Section 3 of the new Form I-9 and attach it to the employee's existing Form I-9.
Changes to the new version of Form I-9 and instructions were minor and include:
Form – Revised the Country of Issuance field in Section 1 and the Issuing Authority field (when selecting a foreign passport) in Section 2 to add Eswatini and Macedonia, North per those countries' recent name changes. (Note: This change is only visible when completing the fillable Form I-9 on a computer)

Instructions – Clarified who can act as an authorized representative on behalf of an employer, updated USCIS website addresses, provided clarifications on acceptable documents for Form I-9, updated the process for requesting paper Forms I-9 and updated the DHS Privacy Notice
The consequences for not completing the I-9 correctly, or within the required timelines, can be significant. Employers need to retain original I-9 forms for three years after the date of hire, or one year after the date employment ends, whichever is later. The forms should be stored separately from other personnel files and made available for inspection by authorized government officers.
For further information regarding this subject, please feel free to contact FLORES' Human Resources Department at (619) 588-2411.