Our History
Flores Financial Services, Inc. was originally established in 1982 and has continued to grow as a well-known and respected financial services provider.
We conduct business with clients throughout California, Arizona, Texas, Hawaii, and the Midwest. Flores Financial provides quality accounting services, from startup planning to ongoing business administration and compliance support, including bookkeeping, payroll, budgeting, customized financial reporting, and consulting services. President and Owner, Mr. Gregory Flores developed a Human Resource department which has proven to be a valuable, added service for all of our clients. The department offers a full range of human resource services, from employee selection, orientation, and training programs to the administration of benefit plans, workers' comp, and unemployment insurance.
Flores Financial's key to success has been our outstanding customer service and valued business relationships with each of our trusted clients. The company has achieved the majority of our current customer base by client referrals, which is a true testament to the quality service produced by the Flores Financial team. We specialize in the restaurant and retail industries allowing us to give our clients a focused expertise that is key to their operating environment.
Currently, Flores Financial Services is located in Santee, just 20 minutes outside of downtown San Diego, CA. We employ over 90 bookkeeping professionals and a fully staffed human resources department. We are a complete business office operation with over 30 years of experience.
Flores Financial Services provides personalized service to each client, large or small, in a professional, responsive, and confidential manner. We would welcome the opportunity to get together and demonstrate to you how Flores Financial could do the same for your business.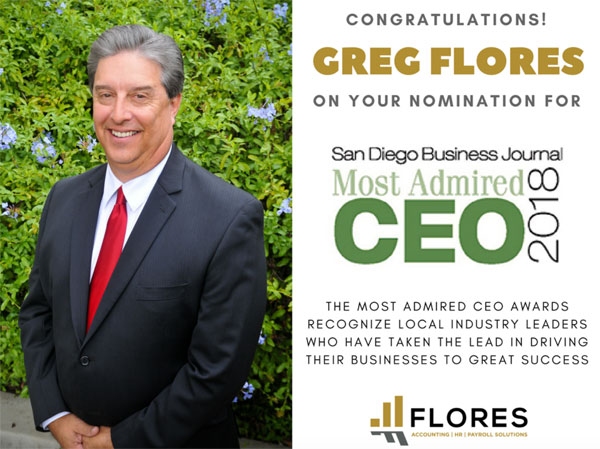 Flores Financial Services is committed to delivering excellent service to each and every client, establishing quality business relationships, providing a safe, dependable working environment for our employees, and establishing Flores Financial Services as a leader of integrity and value in today's business world.