FAQ and Checklist for your Business about COVID-19
March 18, 2020
Posted by:

flores

Category:

flores blog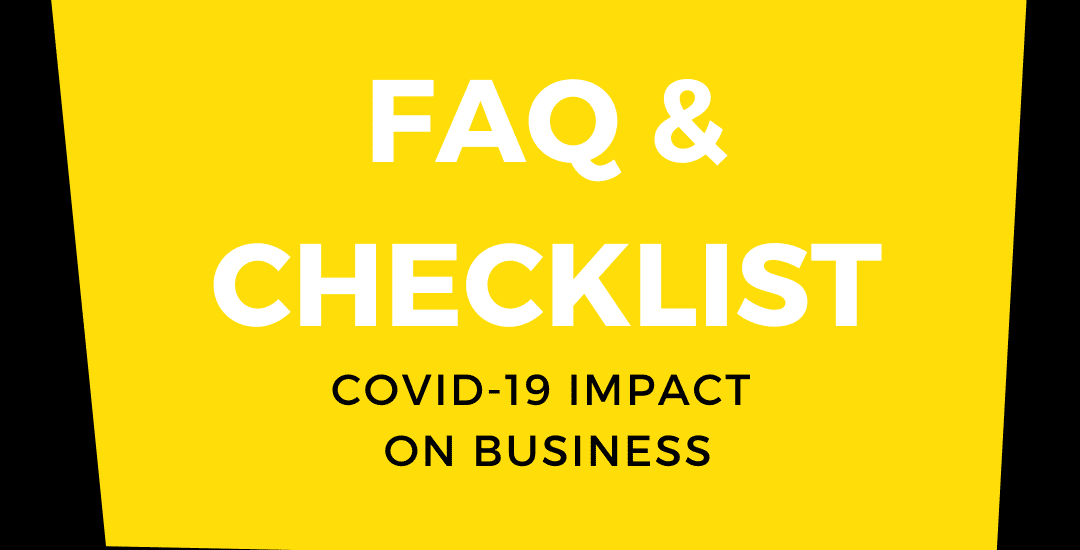 FAQ and Checklist for your Business
by Michelle Flores-Gonzales, VP and COO
The Novel Coronavirus (COVID-19) is resulting in many government-mandated restrictions, including the closure of bars and dining rooms and strict limitations for food service. The official order of the health officer and emergency regulations for the county of San Diego can be found here: HealthOfficerOrderCOVID19. Many other local and state mandates are also in place, if your business must temporarily close here is a FAQ and Checklist of what to do next.
Personnel
Employers will have to make difficult decisions regarding employment of team members. Please refer to this HR FAQ. With the temporary closure, employers should evaluate which team members they are keeping on staff and forecast the amount of cash needed to keep payroll going for the forecasted time frame of temporary close.
Inventory
Your venue may be closing operations entirely and may not have the option of offering to go service. If that is the case please take a final inventory so that COGS can be accurately reported for P3 financials. If there are transfers between locations please report them. If all perishable inventories are being donated please report the cost accurately to your accounting team.
Cash on Hand
With final day of operations please close your vault count and deposits as normal. All Safe Count sheets should be completed. All Safe counts if operations are fully closing should be deposited to the bank and all cash on hand should be zero. Please report Safe Counts and deposits accordingly to normal SOPS with FLORES accounting team.
Sales Tax
The CDTFA has granted assistance for those impacted by COVID-19 State of Emergency. The assistance includes granting extensions for filing returns and making payments, relief from interest and penalties and filing a claim for a refund. Talk to your FLORES associate about filing extension for the payments due 3/24/2020. The current extension period is 60 days. FLORES is already in the process of requesting extensions for our clients that we can do so for, please confirm with your direct associate your business is on our list if you wish to opt into this CDTFA assistance.  
Fixed Expenses
For cash flow purposes you need to plan for your fixed expenses, start forecasting your cash outflows and calling your landlords and vendors accordingly to negotiate new terms. Fixed Expenses include items such as the following:
Rent

Note Payables

Merchant Processing Fees

Janitorial contracts and/or misc. service contracts

Courier Service (FLORES will suspend all services unless told otherwise)
ACH Expenses
Some of your vendors are on automatic payments, you may want to hold these payment terms for the interim. If that is the case please contact your FLORES associate for a full listing of ACH vendors and then reach out to your vendor to change payment type.
Accounts Payable
Payments to vendors and release of payments will need to be reviewed. Make sure all invoices from final week of operations are fully scanned or sent over to FLORES so we can update AP records with up to date purchases. Please refer to your AP Trial Balance report from FLORES to make the calls on which payments can be released and when. At this time FLORES is not following normal payment selection terms unless authorized to do so by client. All vendor payments must be approved by owner before being mailed by our office.
Capital Requirements
The final step will be what is your burn rate and how much capital do you have in reserves to sustain the temporary closures. FLORES team is working to get all your accounting records up to date so we can send you all necessary reports to assist you in these conversations and planning.
Business Relief
Government is potentially going to be offering some relief to small business owners. Here is one option we know of thus far. The SBA is offering loans up to $2m to companies hurt from Coronavirus. Rates are as low as 3% and can be fixed up to 30 years. County must be declared a "disaster zone' by the Governor to apply. More information: https://www.sba.gov/disaster-assistance/coronavirus-covid-19
Please reach out to your FLORES HR representative for any additional information or questions about this subject matter at (619) 588-2411.