July 29, 2021
Posted by:

REBL

Category:

Business Strategy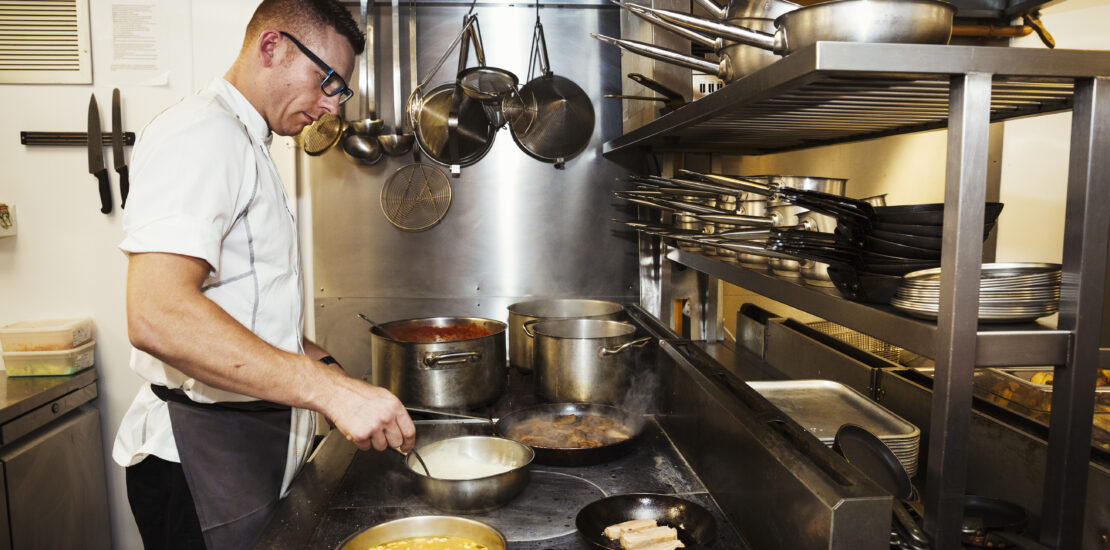 Ghost restaurants (also called dark kitchens, virtual kitchens, cloud kitchens, or headless restaurants) are an increasingly popular concept. They are a departure from the traditional brick-and-mortar restaurant concept: they have no seats, storefront, or waitstaff, and primarily offer food through curbside pickup, takeout, and delivery. Operating a ghost restaurant can help cut business costs while staying open and serving guests through delivery only.
Ghost restaurants operate entirely online, allowing customers to order through third-party delivery services like GrubHub, DoorDash, or Uber Eats. Customers receive their food without any direct contact from the ghost restaurant itself. Some ghost restaurants operate through online ordering on a native platform, allowing for an in-house method for receiving online orders and cutting down on third-party costs.
What are the pros of opening a ghost restaurant?
Lower Overhead Costs
Without a storefront, ghost restaurants are free to deploy new menu concepts and remove others that are not performing as well with customers. There is no need to update or change printed menus: simply update your online menu on delivery sites!
Meet and Exceed Online Ordering Demand
Ghost restaurants can exist on the websites of multiple aggregate delivery services, like GrubHub and DoorDash, in addition to an in-house delivery system. This helps you reach a very wide range of potential customers.
Quick Start-Up
Ghost restaurants do not need to be strategically located in highly-trafficked spots. Given the current social distancing measures, this is a significant advantage! Instead, owners can save money and rent unassuming buildings without the need for fancy decor, large signage, or nearby foot traffic.
Data-Driven Insights
Ghost restaurants limit the opportunity to get direct customer opinions: instead, owners can rely on data from food ordering trends to bridge the gap between supply and demand within their delivery radius.
Increased Online Brand Awareness
Operating entirely online enables ghost restaurants to adequately serve younger generations in particular, who are especially tuned into the digital world of app-based ordering. 
Are there any cons to ghost restaurants?
Engineering Meals for Delivery
A potential challenge is ensuring the food you offer is packaged in a way that is optimized for deliveries. Leave the sauces on the side to avoid a soggy sandwich, and make sure your containers are properly insulated. It is crucial to make sure your guests are receiving as good an experience as they would in a traditional restaurant.
Eliminating the Touchpoints Between Restaurant & Customer
Because ghost restaurants exist solely online, customers do not have the opportunity to pass by on the street and inquire about what's inside. 
Online Reputation
Managing a restaurant's online reputation is important! More and more consumers use online reviews to decide where they want to eat. If you operate entirely online, your reputation lives online as well, and one bad Yelp review can significantly bring down your average rating or deter potential customers.
Third-Party Integrations
Companies like UberEats, Postmates, DoorDash, and GrubHub are convenient mobile ways to deliver to a growing customer base. Unfortunately, ghost restaurants have no control over the type of customer service these companies provide. A guest could have a bad experience entirely based off the delivery service, and as a result might choose to never order from your ghost restaurant again. Using a native online ordering system in addition to third-party sites is one way to go about this potential problem, and can also help offset some of the third-party commission fees. 
If you are considering opening a ghost restaurant, give FLORES a call at 619-588-2411. We have extensive expertise in the restaurant industry, and our team is here to help you create a business plan to optimize your concept!