November 1, 2021
Posted by:

REBL

Category:

Company Culture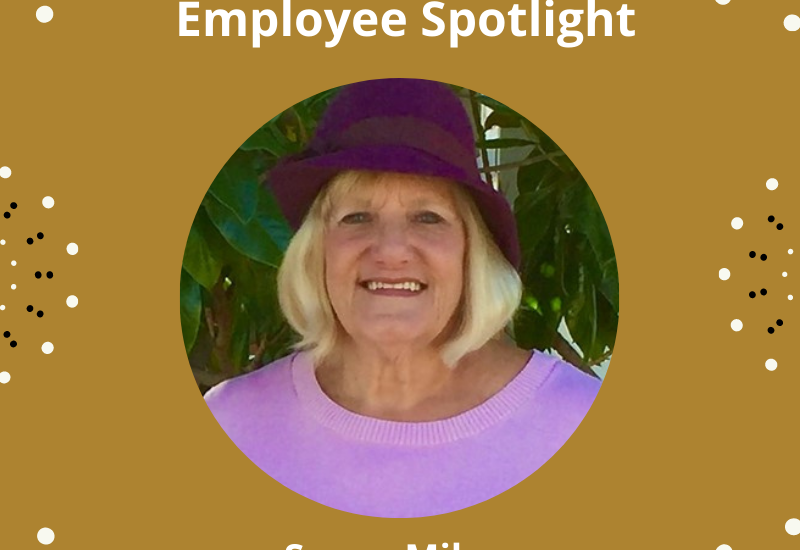 Susan was born in San Diego in 1950 and has lived here her entire life. Susan graduated from Crawford High School in 1968 and enrolled at San Diego State College (before it was a University) in 1969.  As a teenager, Susan dropped out after one semester and went to work for Safeway Stores, with the promise to her parents, that she would go back to college soon.  Life got in the way so she stayed with Safeway/Vons for 32 years. Susan retired at the age of 52 and then decided to fulfill the promise to her parents to go back to college. She started back at Grossmont in 2003 and transferred to SDSU in 2005. Susan graduated with a degree in accounting in 2007 and had no plans to go back to work.  In 2009, her daughter, Allison, was working for FLORES and told Suan that they needed data entry people for Sprouts, and twelve years later Susan is still here at FLORES.
Her hobby and passion is sewing. She makes quilts and tote bags on a regular basis. Her and husband go to the zoo every Tuesday and have met many, many of the zookeepers.  "About 3 years ago, he asked me if I could start making tote bags for the zookeepers with their favorite animals on them.  To date, we have donated about 70 bags to these wonderful people at the zoo" Susan tells us. 
Susan's personal opinion, "is very appreciative of the fact that they hire older people, and as an overweight person, she has seen discrimination against the elderly and the overweight. She has always felt that the people at FLORES don't judge her by anything other than her work ethic." She loves the fact that FLORES gives the opportunity and the tools needed to move up the ladder. She also appreciates the fact that she can work remotely and loves that if she has a problem, one of her managers will help her address it. 
Susan has been married to her husband Don for 38 years, and have actually been together for 42 years. They met while bowling – and both used to be avid bowlers before giving it up many years ago. Nowadays Susan enjoys sewing while her husband Don took up golf. They are parents to two children, Allison and David. She also now has a grandson, Logan, who is very very loved! 
Favorite Quote/Poem: 
As you wander on through life
Whatever be your goal
Keep your eye upon the donut 
And not upon the hole.
"My father wrote that in my six-grade autograph book.  The book has long been gone but I have never forgotten those words of wisdom.  I've tried to live my life, looking at the positive and not the negative.   I haven't always succeeded, but it's worth the goal" says Susan Milow.