February 28, 2022
Posted by:

REBL

Category:

Company Culture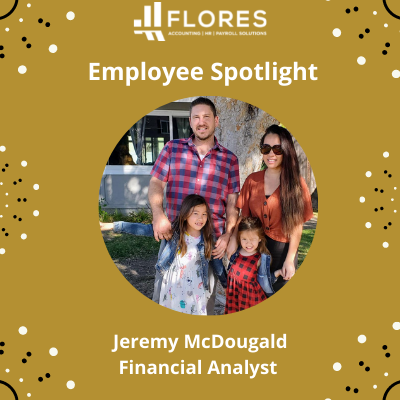 Jeremy grew up in Price, UT (a small coal mining town – approx. 10,000 residents). Jeremy's mom was an accountant for the Forest Service, so he followed in her footsteps graduated from the University of Utah and received his BS in accounting. In 2003 Jeremy moved to San Diego after a vacation with the perfect weather of 80 degrees in December (DUH!) so it was time to pack up and make the move to Sunny San Diego! When Jeremy first moved to San Diego he worked as an Accountant- Financial Analyst in the manufacturing industry for about 10 years.
Jeremy is now the Financial Analyst with FLORES. Working at FLORES has allowed Jeremy to be closer to home since he does have 2 little girls that are in preschool and elementary and avoids the traffic commute (more time with family!). He states "It has been one of the best career decisions in my life!" He also enjoys the friendly atmosphere and everyone seems down to earth (his kind of people).
Jeremy cherishes his wife, two beautiful daughters, Ailee and Alivia company every day. He also enjoys golf and a daily morning run with his golden retriever, Miles! He enjoys playing basketball as well – he even attended most of the NBA final games against the Chicago Bulls and witnessed Michael Jordan's "last shot" to win the 1998 NBA Finals – Nice push off!
Favorite Quote/Poem: 
"Success usually comes to those that are too busy to be looking for it" .