April 27, 2023
Posted by:

FLORES

Category:

Company Culture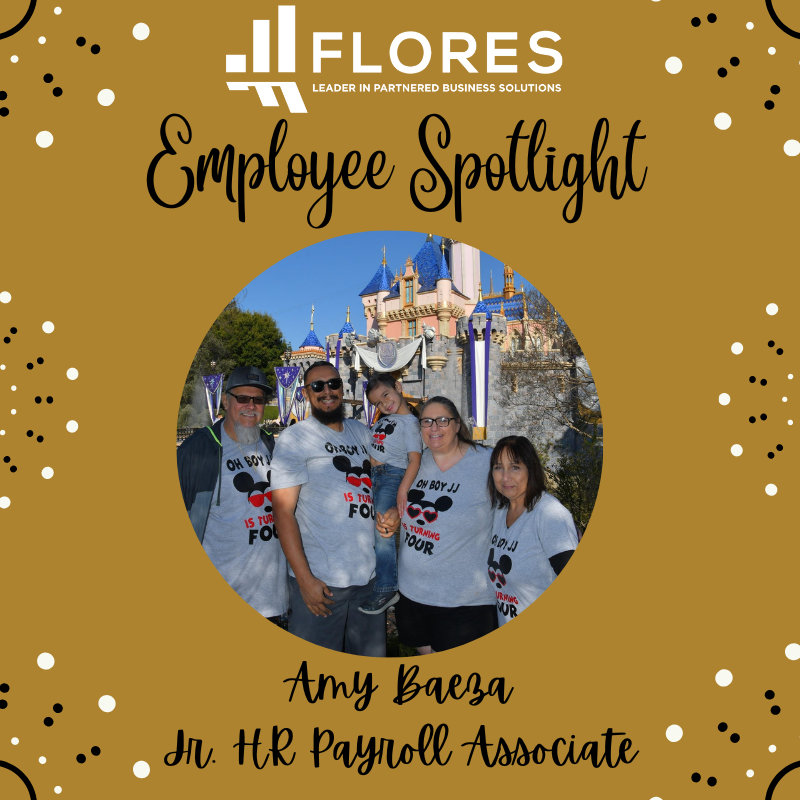 Amy grew up all over Southern California – from Chula Vista to San Bernardino – and attended several high schools (7 to be exact). She joined the Navy when she was 20, where she served as an Airman on the USS Stennis. She worked with Launch and Recovery on the flight deck. Her favorite part was being able to travel the world. Amy has been to Japan, Malaysia, Australia (her favorite), Canada, and Hawaii. She crossed the equator and became a shellback. Her dream career growing up was to be a Sea World trainer for either dolphins or orcas, but she decided on a more practical route. Amy attended Southwestern College, San Bernardino Community College, and SDSU where she studied Sociology and Psychology. She loves to figure out how people work and function and why they do the things they do.
Amy and her husband like to go out and try new restaurants. Even though she grew up in San Diego, she likes to go sightseeing since there are so many places to visit. Amy likes to hang out at home, but she has a hard time sitting still, so she doesn't really watch too many movies, but likes to play old school video games with her son instead. She loves spending time with family and friends.
Amy joined FLORES in August of 2020 where she started out as an Office Assistant helping with the front desk and other duties. After she got comfortable and helped in other departments, she realized she liked payroll. Since joining the HR department, she has been trained on how to do payroll and has learned so much of the HR world but feels there is still so much more to learn. Amy loves what she does and hopes to keep growing in her career and advancing here at FLORES. She appreciates that FLORES is a company that likes to promote within and helps its employees learn, grow, and succeed. Amy is grateful for the many benefits we have to offer and constant encouragement from the team.
Amy loves the people that are in her circle. The person she is closest to would be her aunt because she took her in when Amy was 13 and raised her during the rebellious teenage years. She taught Amy structure, discipline, and basic household knowledge. Amy feels she would not have become the person she is today without her aunt stepping into her life and taking on that hard role.
"Early is on time and on-time is late!" Amy loves this quote; it was often used when she was in the Navy, and she still lives by it today.