August 22, 2022
Posted by:

FLORES

Category:

Company Culture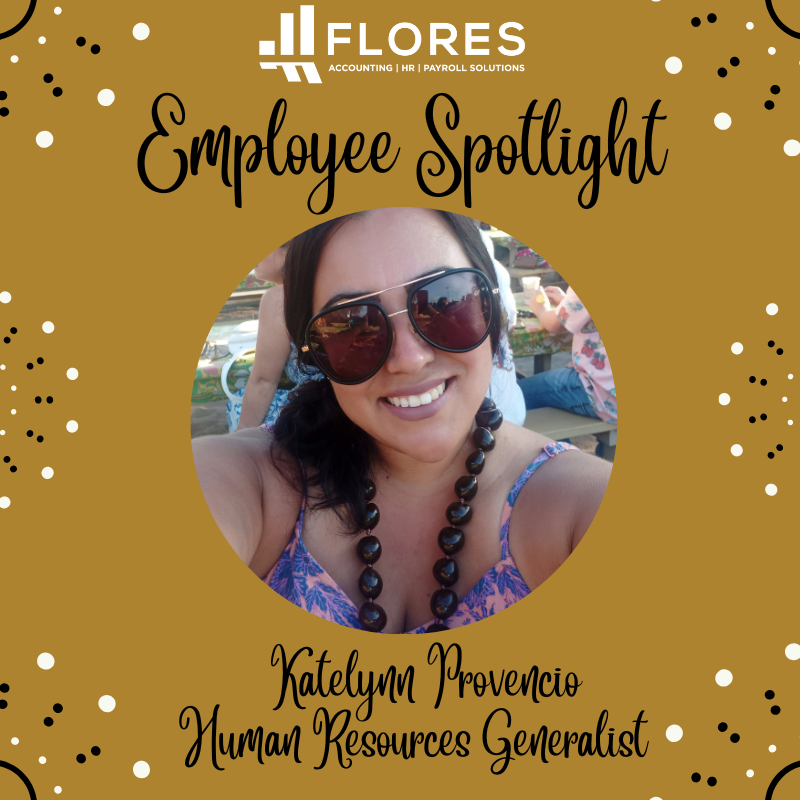 Katelynn grew up in La Verne, California. She was a cheerleader during her time at Bonita High School and a few years at Mt. San Antonio College while she was studying Journalism. She has also earned her cosmetology license.
She loves spending time with her family, (mom, dad, sister), as she feels that being close with them is very important and has helped make her the person she is today. Katelynn likes to relax and cuddle up with her cat Gerri and her Great Dane Esco. She loves traveling with her spouse, Anthony. They make sure to take a week or two off every year to clear their heads and enjoy their life together thus far.
Katelynn realized she liked working in HR while she was working for the Disney Company and was assisting with HR projects. When she moved to San Diego, she found a full-time HR position and then eventually was able to join the FLORES team as a Human Resources Administrator. She has been able to move up in her HR career and is currently one of our HR Generalists. Katelynn loves that she can learn and gain more experience everyday and hopes to one day grow into a management position at FLORES. Her favorite part of working here is that she is part of such a caring company that values Teamwork, Service, Accuracy, Integrity, Professionalism, and most of all FAMILY. She cherishes all the relationships she has made with her fellow team members.
When it comes to feeling accomplished, simply getting her daily tasks done does it for Katelynn. If she can get everything done that she needs to in a day, she feels GREAT! She strongly relates to the quote: "Success is not final; failure is not fatal; it is the courage to continue that counts."- Winston Churchill. Her future goals are to be successful in her career and live a wonderful life with her family and friends.