September 11, 2023
Posted by:

FLORES

Categories:

Accounting, Business Strategy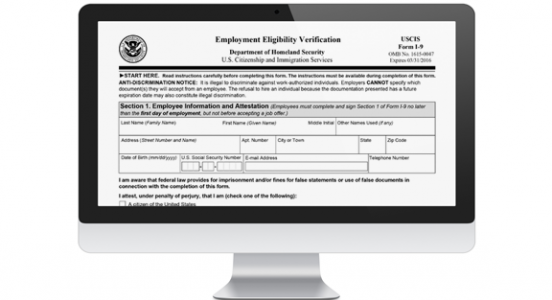 How to Document Remote Verification of I-9s
Qualified E-Verify users in good standing now have the option to verify I-9 forms remotely, but how to document compliance isn't clear. Employers should avoid overdocumentation, legal experts caution. In addition, employers choosing to record video verification sessions or take screenshots of the documents shared over video chat should inform employees in advance and get their consent to do so. But recording the video chat may not be necessary.
Background
Remote verification of identification and work authorization documents associated with Form I-9 became an alternative option for qualified E-Verify users in good standing as of Aug. 1.
To be in good standing with E-Verify, employers must:
Have enrolled in E-Verify for all hiring sites that use the remote alternative procedure.
Be in compliance with all E-Verify program requirements, including verifying the employment eligibility of newly hired employees.
Continue to be a participant in good standing in E-Verify at any time the employer uses remote verification.
New E-Verify employers and any users who manage and create cases must complete an E-Verify tutorial that includes fraud awareness and anti-discrimination training.
Document Retention
Employers are required to retain clear and legible documentation of documents in the I-9 documentation process if they use remote verification.
The employer uses the video interaction to remotely review the employee's identity and work eligibility documentation presented for the I-9 verification. At this time, they also compare it to the information entered on Section 1 of the Form I-9 by the employee for accuracy.
The live video chat can be on Zoom or FaceTime, or some other method; there's no specification by the U.S. Department of Homeland Security (DHS), said Kate Kalmykov, an attorney with Greenberg Traurig in Florham Park, N.J., and New York City.
During the live video chat, the employer interacts with the employee, who holds up the original employment verification document to the camera, and the employer inspects it, said Kelli Duehning, an attorney with Berry Appleman & Leiden in San Francisco, speaking during the "SHRM Government Affairs: Form I-9 First Word Alert Webcast" on July 27.
"The employer should not overdocument," cautioned Eileen Scofield, an attorney with Alston & Bird in Atlanta. Overdocumentation might be interpreted as evidence of an employer having requested or required more documents than needed because of citizenship or national origin of the employee, she said.
Even if it's not a sign of intentional discrimination by the employer, overdocumentation can lead to a lengthy U.S. Department of Justice/Immigrant and Employee Rights Section investigation, Scofield said.
"More is not better," Scofield stated. "A concern is when the employee electronically sends too many documents; now the employer has more copies than required. Also, perhaps [the employer] has information related to citizenship or national origin."
Accordingly, the employer needs to give every employee clear, uniform guidance and have a standard protocol to address when an employee provides too many documents, she said.
Employees can present any document or combination of documents from the DHS' list of acceptable documents, said Kerri-Ann Griggs, an attorney with Alston & Bird in Atlanta.
"They are not required to present a Social Security card or passport specifically. The decision is exclusively theirs on which documents they choose to present, provided they are permitted by DHS' list of acceptable documents," she said. "An employee can though demand that instead of the alternative procedure of remote verification that the employer use the normal physical inspection process for their I-9 completion."
The I-9 document retention regulation remains the same. It requires documents to be retained for one year from date of termination or three years from the date of hire, whichever is longer, said Kathleen Campbell Walker, an attorney with Dickinson Wright in El Paso, Texas.
To view more information on methods for Remote I-9 Verification, read the full article here – https://www.shrm.org/resourcesandtools/legal-and-compliance/employment-law/pages/documentation-remote-verification.aspx
If you have any questions or need help with the I-9 Verification, give FLORES a call. Our HR team would be happy to assist you in any way we can.
Contact us at 619-588-2411