October 3, 2022
Posted by:

FLORES

Category:

Company Culture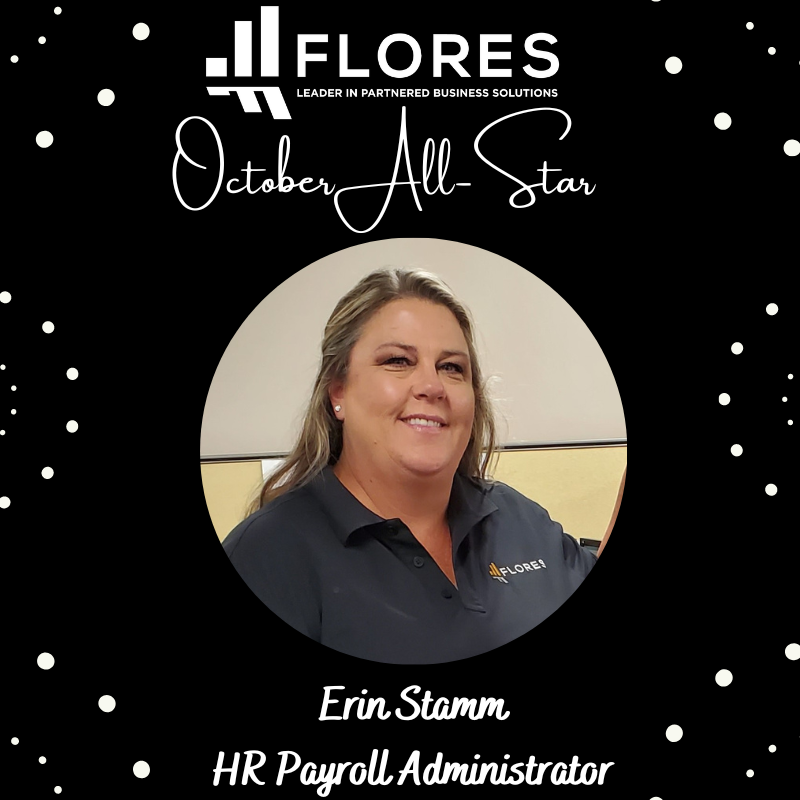 Erin has become a great asset to the HR and payroll team since the first day she started. She hit the ground running as soon as she received her first group of clients and hasn't stopped! Erin is friendly, professional, and always eager to help and learn new things. She has fostered great client relationships and continues to exemplify excellent customer service. We are all very happy and thankful to have her part of the #FLORESteam. Keep up the great work!
– Jorge Jimenez (HR/Payroll Manager)
What the FLORES team has to say about Erin:
"I'd like to nominate Erin for October Allstar. She is an IMMENSE help! She is always ready for a challenge and is happy to help on any project. She has incredible attention to details, which helps in so many ways."
"I nominate Erin for Allstar because she is great with her clients and picks up things quickly. She has a positive attitude and is an asset to her team!"
At FLORES, we believe in team empowerment and appreciation.  Each month, our team nominates their peers for the "All-Star of the Month".
The winner of All-Star of the Month enjoys a month of "All-Star" priority employee parking and a gift card!