All-Star of the Month: Gabby Lopez-Robles
October 9, 2019
Posted by:

flores

Category:

flores blog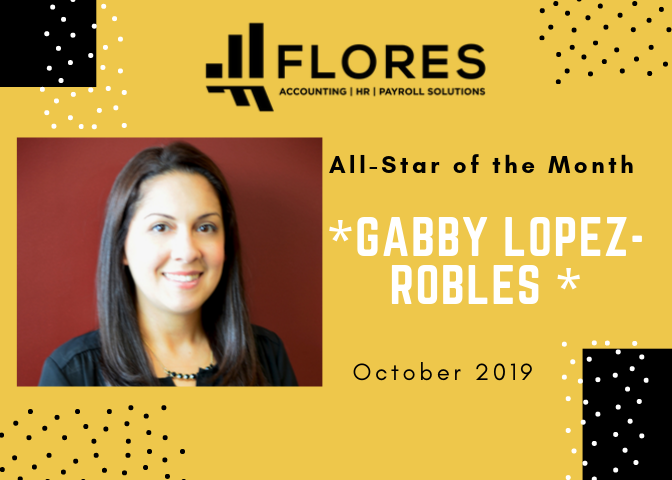 All-Star of the Month: Gabby Lopez-Robles
At Flores, we believe in team empowerment and appreciation.  Each month, our team nominates their peers for the "All-Star of the Month".
The winner of All-Star of the Month enjoys a month of "All-Star" priority employee parking, a gift card and lunch with managers!
We are pleased to announce our September All-Star winner *drumroll please* — Gabby Lopez-Robles!
Why Gabby?
Gabby is a truly valued member of the FLORES team! She cares about the team and our customers and it shines in her work. Her hard work in running the front office is greatly appreciated, if it weren't for Gabby operations would suffer. Her positive attitude is also a big part of why we love having Gabby on our team and we cannot thank her enough for all she does for FLORES!
Gabby is essential to how we run things here at FLORES. Her professionalism shines through to our clients as she is often the first person they talk to when calling the firm. A role like Gabby's requires attention to detail and excellent time management, she keeps all the management and executive team informed and keeps the day to day operations in the office flowing smoothly. We truly appreciate her and the structure she provides at the office!
What her team has to say:
"I nominate Gabby because she is such a vital part of this team! Her upbeat spirit and positive attitude truly reflects what FLORES is all about, great customer service and teamwork. Without Gabby the team would be lost, she keeps us in rhythm and truly plays a critical role as the 'heart' of the office."
" I nominate Gabby for FLORES All Star because she truly is a star! She plays a big part in all the FLORES fun activities and makes work feel like family. She is a big part of the team and her pumpkin spice spirit is the best!"
CONGRATULATIONS GABBY!
Flores is Hiring!
Interested parties, please send resumes to jessica@floresfinancial.flywheelsites.com